Udderly Hot Mama's Melanie Herschorn appeared on CBS 5′s Morning Show! Melanie is headed to the Boom Boom Room in Hollywood where celebs will get to sample Udderly Hot Mama's nursing tops! 
Phoenix mom designs shirt chosen for swag at the Emmys
Posted: Sep 20, 2013 8:50 AM MSTUpdated: Sep 22, 2013 7:19 AM MST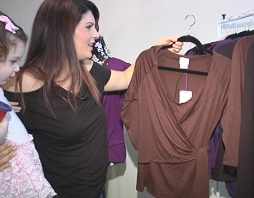 PHOENIX (CBS5) -As celebrities gather for the Emmys this weekend, one Phoenix woman will be in the middle of all the action.Melanie Herschorn designed a shirt that will be part of the swag celebrities can check out.The shirts, called Udderly Hot Mama, are designed just for nursing moms.
Udderly Hot Mamas launched in April and now Herschorn was asked to bring them to Hollywood.
"I was so excited. First thing I did was call my husband," said Herschorn.
Herschorn is not a clothes designer by trade but when she couldn't find anything to wear when she was nursing her daughter, she knew she had to come up with something.
"I was nursing her around the clock. She didn't take a bottle until she was 11 months. I missed having really cute clothes and it was really born out of necessity," said Herschorn.
So Herschorn went to work. She designed a shirt where it is easy to pull down and feed a baby.
There's also a strap that provides extra coverage when the baby is nursing.
Mothers can just take the strap off completely and wear the shirt as a normal top.
Herschorn drew up what she wanted and gave it to a seamstress in Gilbert. Now the shirt is available to the public and celebrities alike.
Herschorn is hoping a celebrity will love her shirt after seeing it this weekend and provide a bit more publicity for Udderly Hot Mama.
The shirts cost between $55 to $65. They come in a variety of colors and designs.
Thank you CBS 5 Phoenix!
Nursing tops and pumping shirts are the most useful attire a new mom can have!